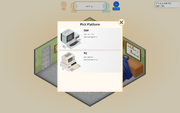 Below you can find details on the various platforms found in the game, in the order they unlock.
By Manufacturer
Edit
Main article: Raw Data for Sales Algorithm#Consoles_Market_Points
The "market share" value given by the game in the dialog for choosing a platform has no practical value. The game instead keeps a list of values for the amount of consoles sold at certain points in time. Between two market points the market population for a console evolves linearly.
Ad blocker interference detected!
Wikia is a free-to-use site that makes money from advertising. We have a modified experience for viewers using ad blockers

Wikia is not accessible if you've made further modifications. Remove the custom ad blocker rule(s) and the page will load as expected.