KickIT (Kickstarter)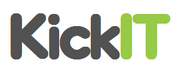 Industry:  Crowdfunding, Microconsole
Founded:  New York City, USA
Year of founding:  2009
Headquarters:  New York City, USA
Products: 
OYA
KickIT is a parody of Kickstarter in real-life.  It crowd funded the OYA.
Facts
KickIT's logo takes design keys from Kickstarter, the crowdfunding service through which Ouya (OYA's real-life counterpart) was (over)funded, as well as from Ouya, Inc. (formerly Boxer8), the company behind the true console.
OYA is a direct reference of OUYA in real life.
Kickstarter did not develop OUYA, unlike how KickIT (Kickstarter) developed the OYA in Game Dev Tycoon.