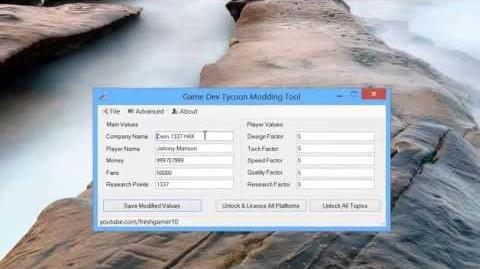 This is a Save Game Editor which allows you to easily edit any values on your Game Dev Tycoon save slot.

THERE IS A STRONG CHANCE THAT IT WILL NOT WORK
How to use
Edit
You have to create a new Slot or if you already have an existing one, you can use that as well.
You will need to run the program and go to File > Open and then pick any slot you want to modify.
Simply change all the values, e.g. the Company Name, Player Name, Money, Fans, Research Points etc. as seen in the video. Once you're done editing all the values, you can simply hit save and you should be done. Now just launch Game Dev Tycoon and load the Slot you modified. Everything should work fine, but in case something is messed up, there's always a backup of the database which the program creates automatically. At the moment you'd have to restore that manually, but in the future, the program will have an option to do that by itself. Updates will be available pretty soon.
It's for free and a whole lot of ads will be displayed.
Game Dev Tycoon NXT Trap 2.1: http://uploaded.net/file/gzu0rfj2  (Steam version or Non-Steam version!)  - Available in English or Portuguese-Brazilian. Official site of NXT Trap: http://ynixt.blogspot.com/
Game Dev Tycoon Modding Tool: http://www.intracode.org/products.html
Good Game ! :D